---
Preface
Goal: Examine Package Manager, Focus on Command Line Interface
DNF comes, after RPM, Zypp, YUM, and URPMI. Fedora container in Docker allow people to learn DNF more easily. DNF is a Package Manager introduced by Fedora.
We need Rawhide rolling release with more often update, so that we have a chance to play more with package. No need to wait for another six month cycle.
Test Bed
Container: Docker

Operating System: Artix (OpenRC )

Window Manager: Herbstluftwm
Since we are going to use docker again, you can read a common overview here.
Of course you can use virtualization, the issue is distraction. We need to avoid tendency to focus on GUI tools. At the same time, limiting the scope to CLI tools. Most of the time, CLI tools is considered lower level than the GUI one.
---
Getting Started With Docker
As usual, first, we do attach docker process.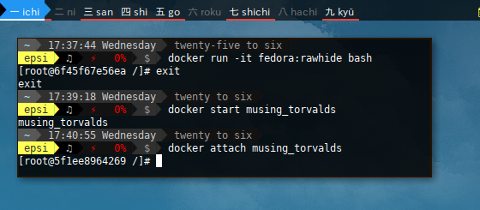 ---
Package Management
RPM Frontend
DNF (Dandified YUM): Fedora: Python
Get Help
Read the fine manual.
Since we do need have man-db nor less yet. This is what we can do.
I cannot even be 'help | less'.

DNF Shell
Most modern package manager has shell feature, that enable user to focus on the task of managing package.

---
Updating System
First thing to do is updating my system as usual.
OS Release

Repository List

Upgrade

Some Extra Command
OS Release
Repository List
This Fedora container size is only 232MB, but the $ dnf repolist command is, ridiculously required to download 66MB.

System Upgrade
update is deprecated.
Now update is just an alias for upgrade.
This is a long process with a lot of text, that I have to put the output into four figures.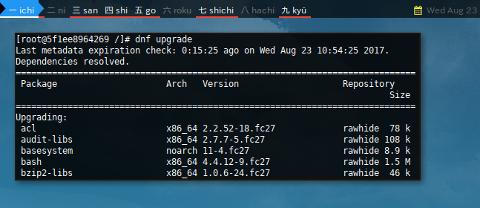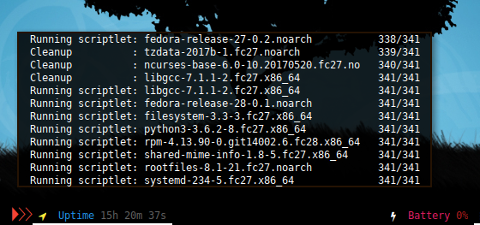 Extra Commands
Common clean up procedures. Actual we will discuss each later. Now I just feel the need to summarized the sequence here.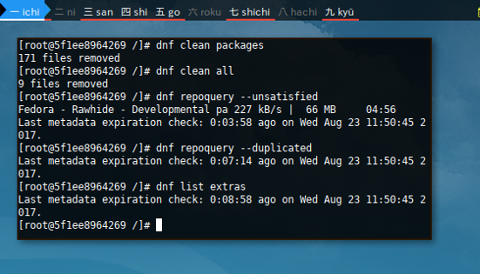 ---
Package IRSIF
Install, Remove, Search, Info, File

Read the fine manual. Helpless or help more. We need to install man.
Package Install
I demand to read, manual pages sir!

Note that I accidentaly misstype man in command line, rather than man-db.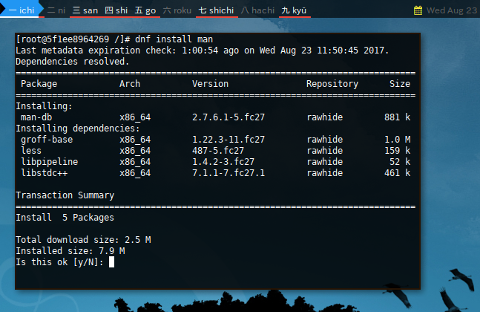 You can reinstall.
And you can install many packages at once too.
Package Removal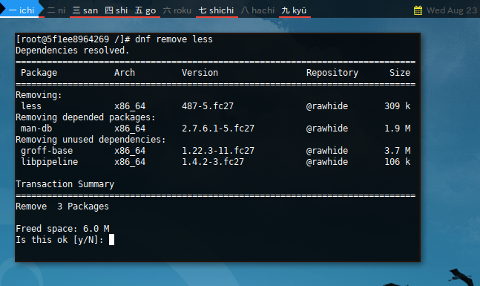 Package Query Search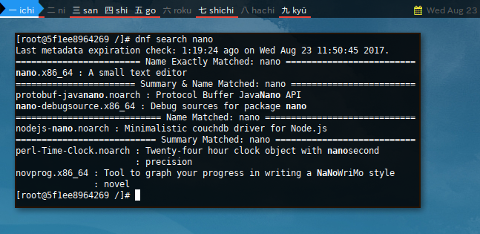 Package Show Info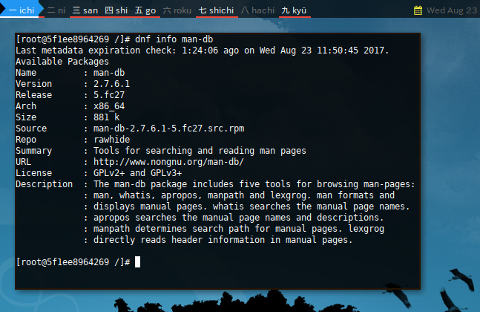 Install Feature
There are DNF feature that I do not see exist in other package management. I found this in a google plus posted by "Thorsten Leemhuis".
The first one is, DNF install package that, provides certain executable as below example.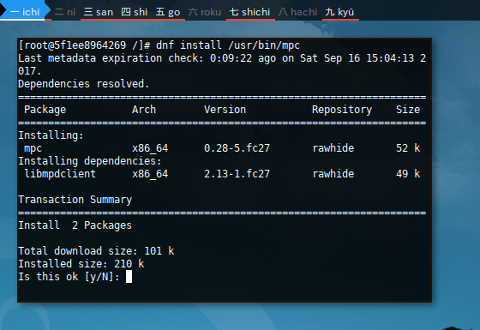 The second is, install Perl package that provide specific library.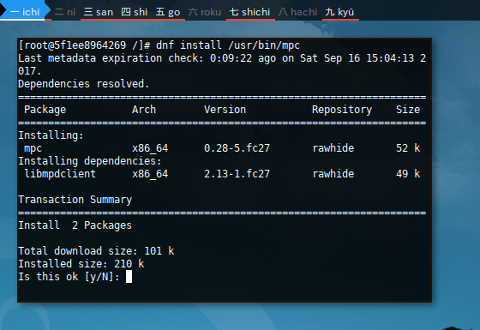 Package File List
Therefore is something similar with rpm -ql.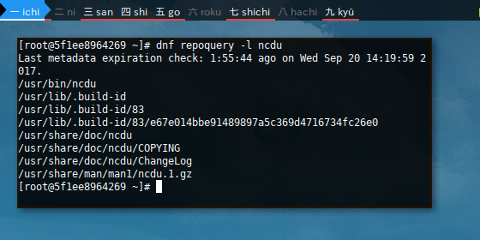 My bad, I cannot find any reference searching files owner. Therefore I use the lower level rpm -qf instead.

---
What's Next
These are just preliminary knowledge about DNF. Consider finish reading [ Part Two ].
Thank you for reading