This is one topic of a package management diversity series.
This is a four-parts article. There are few sections here.
Part One
Preface: Test Bed
Getting Started With Docker
Package Management: RPM Frontend, Get Help, DNF Shell
Updating System: OS Release, Repository List, System Upgrade, Extra Commands
Package IRSIF: Install, Removal, Query Search, Show Info, Install Feature, List File
What's Next
Part Two
Dependency: Help, Dependency, Reverse Dependency, Test, Tree
Group: Group List, Group Info, Group Install, Beyond Group
Repositories: repolist, repoinfo, repo-pkgs, --enablerepo, Mirror
What's Next
Part Three
Plugin: List, Install, Help, Config Manager Example
History: The Log File, DNF History
Hold Package: Example, Add Lock, Remove Lock
Clean Up
Build from Source
Miscellanous: Downgrade, dist-sync
What's Next
Part Four
Build from Source: Requirement, Example, Extract, Dependencies, Build, Install
Inspect Package: rpmlint, rpm -Qpl, rpmls, rpm2cpio
Conclusion
---
Build from Source
DNF has the capability to download the source code. Then we can utilize other tool to build from source.
Consider choose herbstluftwm as our guinea pig example.
Thank You Community
I was wondering how DNF handle source code, and I finally figure out a generic steps, from the very nice fedora Community in Google Plus.
Let me quote form "Johan Heikkilä":
Dnf has capability to install source packages, as long as they are available in the installed/enabled repositories. It is recommended to do the following steps as user and not as root.

In this example:
I actually alter the steps a bit for clarity.

And I still use root for simplicity. It is just docker experience anyway.

Using herbstluftwm as an example case
General Requirement
We require to install rpm-build

And also these toolchain.
Download
Now consider using home directory.
Since we have already enable rawhide-source, we can directly download.
or use --enablerepo and --source instead.

Extract
We need to extract the previously downloaded package to ~/rpmbuild directory. As you can see below, there are warnings for using root. For real system, please do not use root.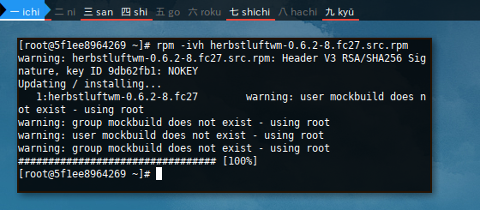 Now we have two directories inside.

Dependencies
Since the case is Herbstluftwm, we also need require to install these packages to avoid missing dependencies.

Build
Consider get in to ~/rpmbuild/SPECS to build.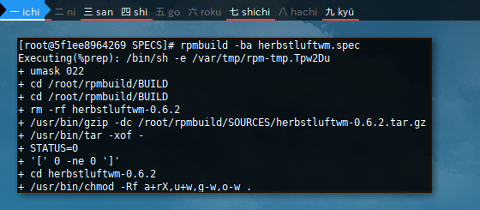 Consider going back to ~/rpmbuild directory. Now we can see additional directories inside as built result.
And the build output result

Install
Now we can install the previously built rpm.

Using Mock
There are also Mock solution. But it is beyond this scope.
Thank You
I respect the help from community. Again, thank you.
---
Inspect Package
Often we need to inspect .rpm package. No need any dnf command, as this more like an rpm issue.
rpmlint
Check for possible issue, similar to lintian or namcap.

rpm -Qpl
You can also query file -Qpl directly to the .rpm package.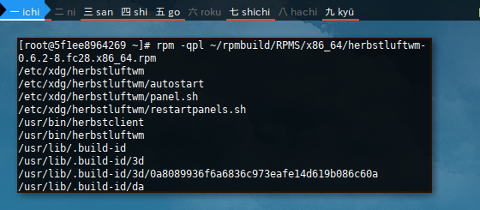 rpmls
Or use the rpmls from the rpmdevtools package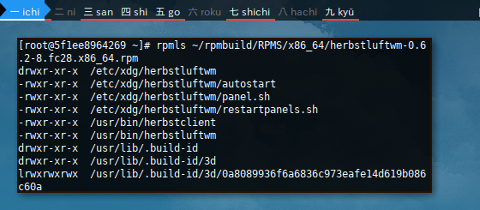 rpm2cpio
This one also extract.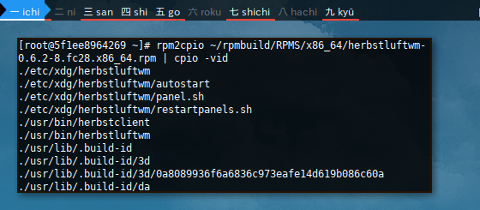 ---
Conclusion
These are just preliminary knowledge about DNF.

Thank you for reading