This is one topic of a package management diversity series.
This is a four-parts article. There are few sections here.
Part One
Preface: Test Bed
Getting Started With Docker
Package Management: RPM Frontend, Get Help, DNF Shell
Updating System: OS Release, Repository List, System Upgrade, Extra Commands
Package IRSIF: Install, Removal, Query Search, Show Info, Install Feature, List File
What's Next
Part Two
Dependency: Help, Dependency, Reverse Dependency, Test, Tree
Group: Group List, Group Info, Group Install, Beyond Group
Repositories: repolist, repoinfo, repo-pkgs, --enablerepo, Mirror
What's Next
Part Three
Plugin: List, Install, Help, Config Manager Example
History: The Log File, DNF History
Hold Package: Example, Add Lock, Remove Lock
Clean Up
Build from Source
Miscellanous: Downgrade, dist-sync
What's Next
Part Four
Build from Source: Requirement, Example, Extract, Dependencies, Build, Install
Inspect Package: rpmlint, rpm -Qpl, rpmls, rpm2cpio
Conclusion
---
Plugin
One of the DNF feature that differ DNF from other package is Plugin.
List
Unfortunately I cannot any command to list DNF plugins. DNF search also won't work either. Luckily there are good documentation.
Or google if the plugin is not mentioned in above link.
Install
Consider this example: config-manager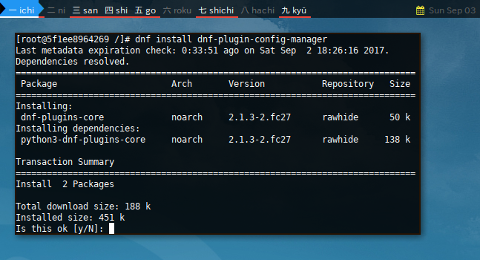 Help

Config Manager Example
Now we can enable a repository without the need to edit configuration manually.

---
System Wide
System Wide Information
List Packages
Listing packages handled by package manager, available in repository.

Extra package. The documentation define extras as that is packages installed on the system that are not available in any known repository .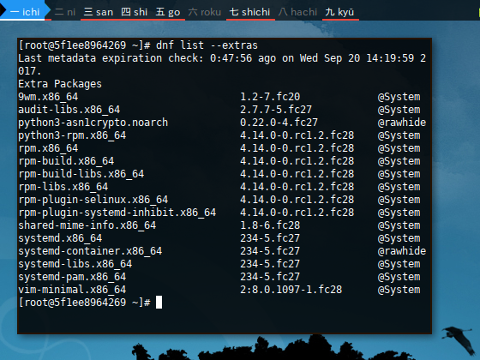 You can try other such as
For more information you can:
---
History
The Log File
This is most the forgotten part of package management, although it is not uncommon to notice messages. For that reason, I put the recorded event here, before discussing about any further feature.
Most likely you want the tail, latest transaction, at the bottom of the recorded event.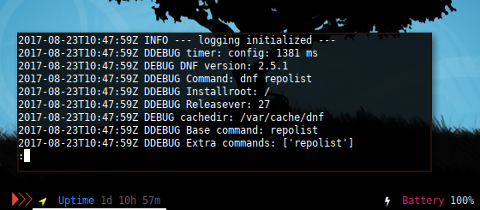 DNF History
DNF has a very nice history feature.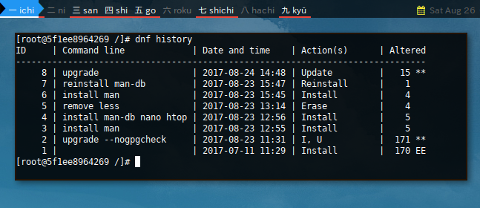 .
Now we can undo.
But not everything can be undone.
Or rollback.
---
Hold Package
DNF can hold package using versionlock plugin. Or using exclude directive in configuration.
Example
Suppose you want to do system upgrade, but you do not want to upgrade certain package. There is a good reason for these, such as keeping old driver, because the latest has a issue or such reason. Or maybe we want to keep our current beloved newly compiled package that equipped with super duper specific configuration parameter optimization.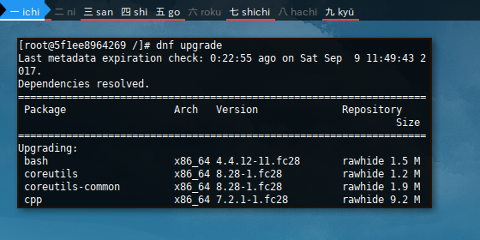 Consider BASH as our guinea pig locking example.
Add Lock
We can add lock easily using DNF. By using exclude directive in configuration.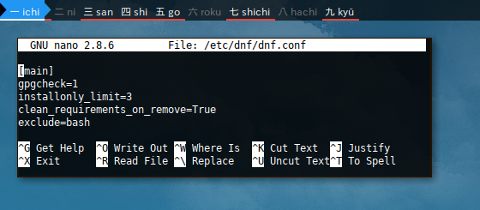 Now bash will be ignored.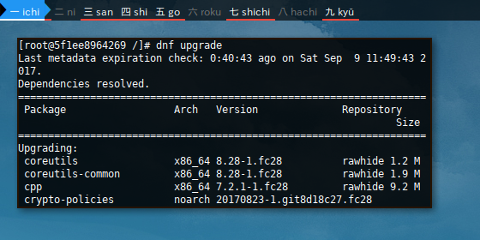 Remove Lock
You can unlocked package by commenting the exclude in dnf.conf
Example done successfully. Guinea pig is alive.
---
Clean Up
Time after time, your cache size may growing bigger and bigger.
Package Cache
/var/cache/dnf/ * /packages/ * .rpm

You can clean these directory.

And also orphan package with no dependency.
---
Miscellanous
Downgrade
We can downgrade easily with DNF.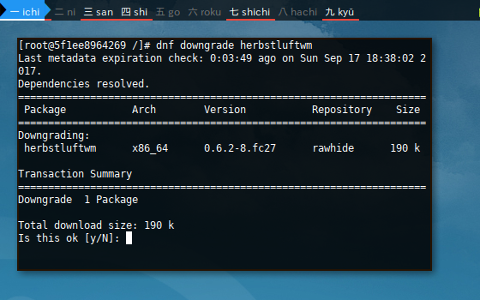 Distro Sync
There is also this command, that sync packages to your current version. Downgrade if necessary. Useful in case of multiple repository.

---
What's Next
These are this build from source topic. Consider finish reading [ Part Four ].
Thank you for reading