This is one topic of a package management diversity series.
This is a three-parts article. There are few sections here.
Part One
Preface
Preparing Docker
IRSIF: slackpkg install, removepkg, Query Search, Show Info, List File
Container: Slackware64, Minimal Install, Package Series
Mirror
System Wide: Installed Packages
History: The Log File
No Dependency: Example, slpkg deps-status
Hold: Blacklist
Cleanup
Part Two
Using slackbuild, manual compilation, and installpkg
Using sbopkg, automatic compilation
Using slapt-get: Reading, Install, Dependencies, Update, Upgrade, Install, Show Info
Using slapt-src: Update, Install
Part Three
Install slpkg: Dependency, Install, No certificate
Using slpkg: Documentation, Update, Install, The Log File
Repository: List, Configuration, Enable, List Package, Install Package
Conclusion
There are still other topic uncovered here
---
Install slpkg
I have been wondering how to add other repository, such as alien and slacky. And I found this slpkg.
Dependency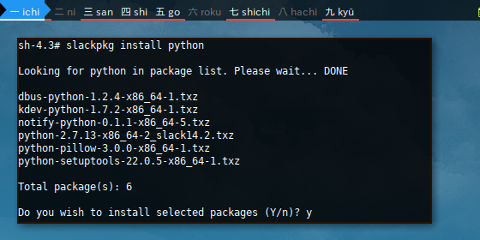 Install
Now you can install slpkg using any method you like.
No certificate
My first attempt, is always failure as usual.
If you encounter this error, you need to install ca-certificates.

Now you should be ready.
---
Using slpkg
The name slpkg in Slackware, remind me of dpkg in Debian.
We can manage repository very nicely using slpkg
Official Documentation
Update

Install:
Unfortunately installation failed, we need to solve some dependency first.
And install again. Do the installation command over again.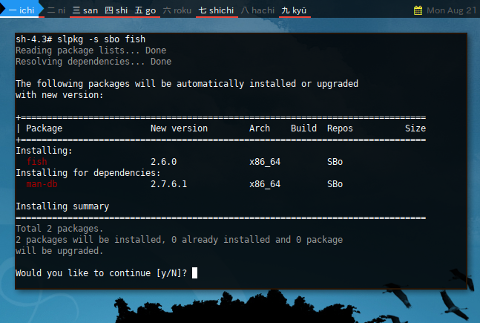 Mission accomplished, Now I can fish.
You are freely to try other package other than fish.
The slpkg Log File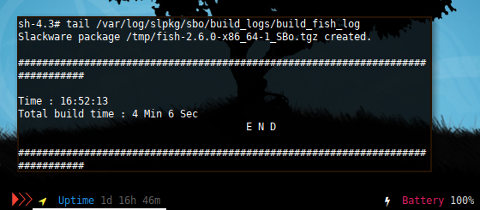 ---
Repository
We can utilize slpkg to manage repository in Slackware
List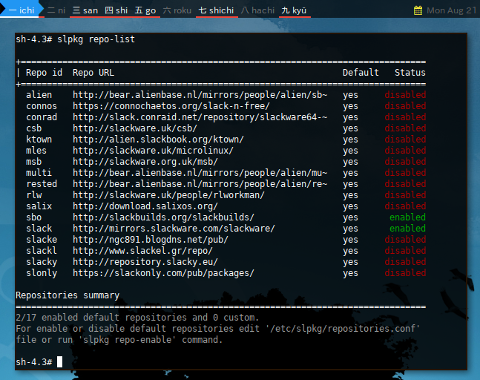 Configuration
You can edit directly to enable repository.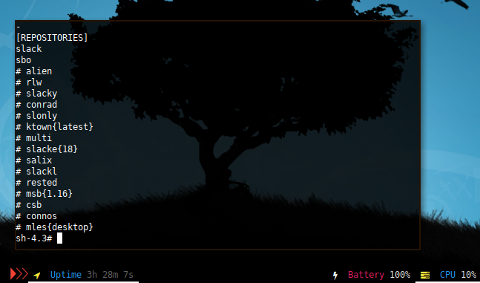 Enable Repository
Alternatively you can use interactive dialog to enable repository.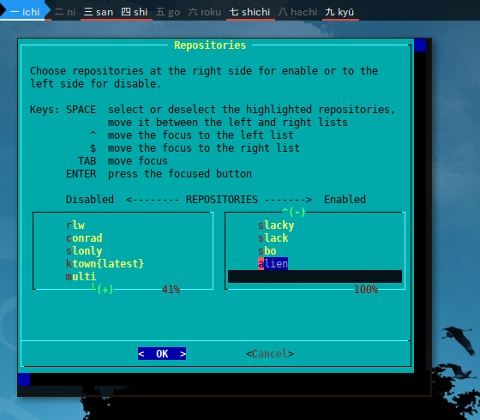 Do not forget to update as usual.
List Package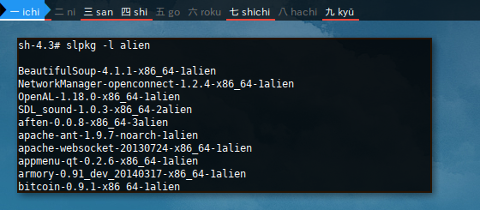 Install Package
Now we can install openbox package from alien repository but without openbox dependency.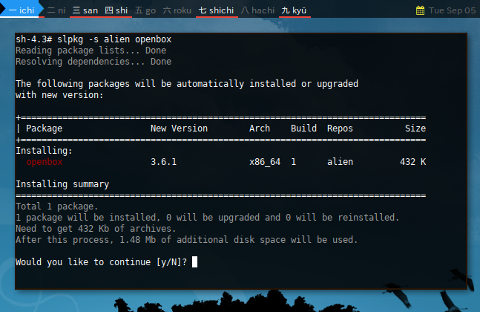 ---
Conclusion
It is said that "Slackware does not resolve dependency". I haven't got enough experience about this situation. I simply do not understand what it means.
I guess I have to learn slackware more.

Thank you for reading