This is one topic of a package management diversity series.
This is a two-parts article. There are few sections here.
Part One
Preface: Test Bed
Getting Started With Docker
Package Management: Reading, Source Code, Get Help
Updating System: OS Release, System Upgrade
Package IRSI: Install, Removal, Query Search, Show Info, List File
Dependency: Help, Dependency, Reverse Dependency, Test
Group: Metapackage
What's Next
Part Two
Repositories: Configuration, Add Subrepository, List Packages, Mirror
System Wide: Installed Packages, Verify, /var/db/xbps, Available, Orphan
History: The Log File
Clean Up
Build from Source
Hold: Example, Lock, Result, Unlock
Conclusion
---
Repository
I found very few reference about repository in xbps.
Configuration
Configuration can be found in /usr/share/xbps.d
Consider check the sign.

Add Subrepository
Sub-repositories can be found as packages.
Therefore a sub-repository can be installed as package.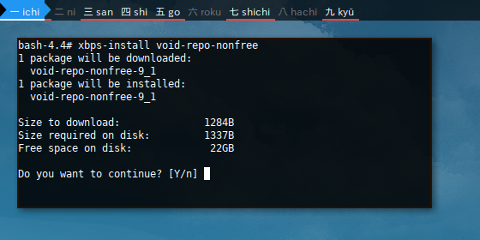 Do not forget to obey the official manual to synchronize

List Packages
Now we can list avaliable packages from that repository.

Mirror
We can adjust the mirror by changing the configuration.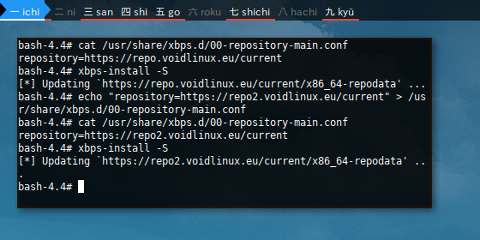 ---
System Wide
System wide information.
Installed Packages
You can query installed packages.
Or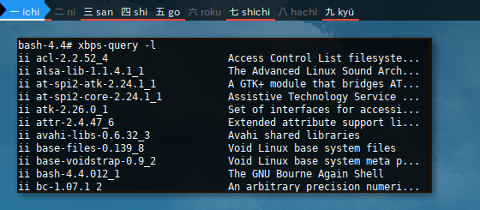 Verify Database
There is this xbps-pkgdb --all command.
/var/db/xbps
You can also examine any .plist in this directory
/var/db/xbps/pkgdb- * .plist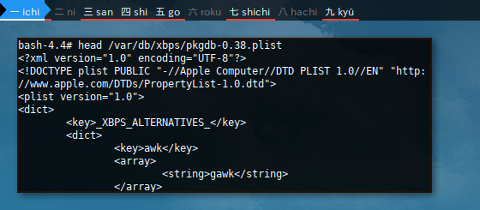 Available Packages
Or

Orphan Packages
Currently, no orphan this time.
---
History
The Log File
Unfortunately, nothing in /var/log

---
Clean Up
Time after time, your cache size may growing bigger and bigger.
Package Cache

You can clean these directory. Unused package will be removed. Some other stay.

---
Build from Source
This part is about xbps-src.
Reading
Requirement
First we need xtools. Later we will need qemu and gcc, or maybe proot.
Void Packages
Consider to go home.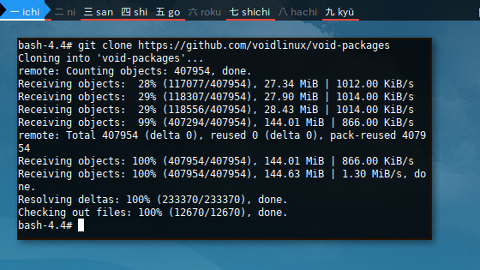 Consider to change working directory.
Getting Help
Read The Fine Manual. As usual.

Bootstrap

Now we should be ready to use xbps-src.
Under Docker
Unfortunately my host kernel does not support feature required by xbps-src.
---
Hold
Hold in xbps is pretty straightforward.
Example
Consider a system upgrade, we choose to hold nano and mc as our guinea pig example.
Lock Package

Result
We can see there is no more mc and nano.
Unlock Package
---
Conclusion
There are still things that I do not understand, such as using xbps-src.
Thank you for reading