Preface
Tumbleweed install, using USB Live Plasma, was succeed.

Still on July. I finally get a chance to experience OpenSUSE. I choose the rolling release caled Tumbleweed. And I plan to use it for few years in my Office. This is my third Linux Partition after Debian and Fedora in my PC in my Office.
First Impression
Surprisingly the installment was succeed. There are few things in my experience.
Each install, download a huge amount from the internet, about 4 Gigabytes.

My bad, I mistakenly install i586 version instead of x86_64 version. So I have to redownload the USB stick installer, and also download aout 4GB installation package.

My first install using i586, I skipped network configuration. And that confused me while I configure later. But it fixed using YaST while doing x86_64 install.

Using nomodeset for my PC, or blinking screen.
This openSUSE utilize BTRFS in root /, and XFS at /home. I'm very happy that I finally get my first non ext4, but I haven't got any time to explore them yet.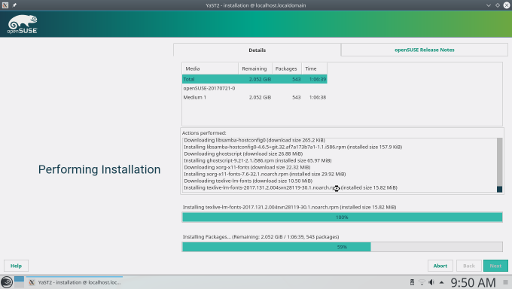 openSUSE installation using YaST as shown in figure above. I haven't explore YaST yet.
One thing for sure while install. No need to touch command line.
---
Post Install
Repository Check
Playing with Package
It seems to be that it need packman repository.
Enable Packman repository
And finally get it installed
More Package
It all done successfully.
---
Zypper
Zypper use abbreviation, to make the command shorter.
repos (lr)

install (in)

update (up)

dist-upgrade (dup)
For more information use the manual and type / to search.
I'm doing zypper dup in tumbleweed as suggested from the community. It seems interesting that zypper ask user about license. I respect license, so I type yes.
This is a screenshot for anyone who curious about openSUSE. After about a week leaving tumbleweed installation in peace and suddenly running zypper dup.
Please click for bigger figure.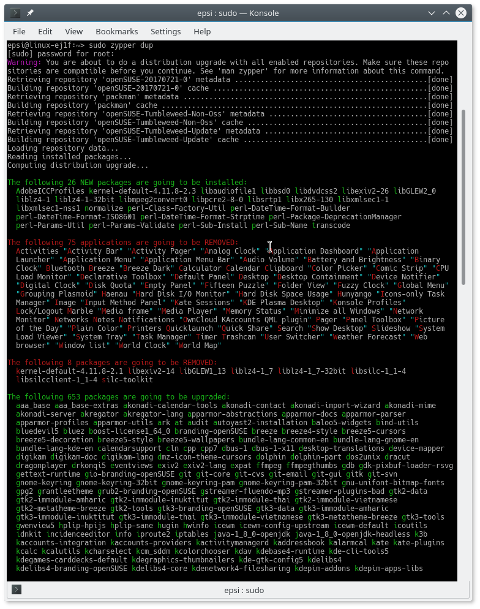 I found something interesting that zypper have. I have nerver seen this in APT nor ALPM nor DNF nor Portage nor Slackpkg.
Please click for bigger figure.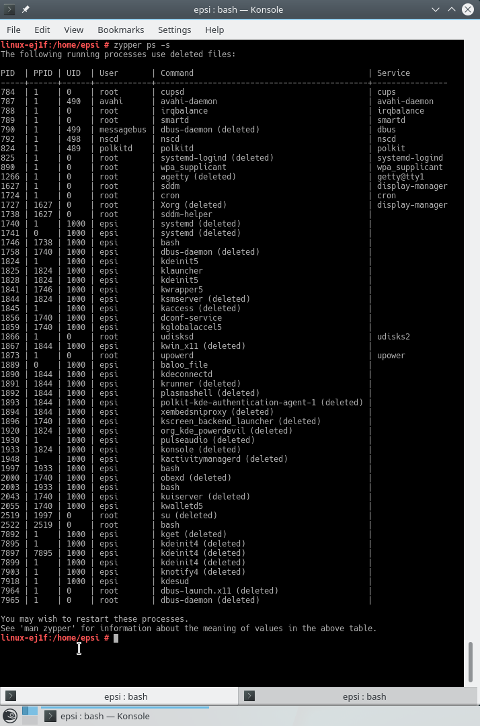 ---
BTRFS
I have never used BTRFS. For that reason, this /etc/fstab looks interesting.
---
Update
or
You can see the difference below. Please click for bigger figure.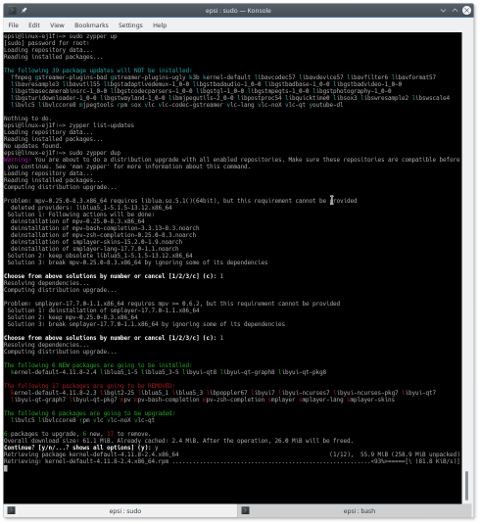 ---
Rescue
Three Weeks later after I wrote this post, I messed up my partition using Windows Easeus. Since openSUSE use BTRFS, I have to download Tumbleweed Live all over again, and use dd to write to flash disk. Then using nomodeset to boot. And chroot before doing both grub2-mkconfig and grub2-install. Finally I have all my partition back again, but five minutes later my area has poweroutage issue. For that reason I decide to get some rest, instead of working.
Guidance
First I have to make sure, that this is the right partition by os-release
And mount the rest
And get my ext4 partition to /boot.
And fix grub.
All done except the power outage.
---
Conclusion
I finally happy using openSUSE. Better late than never.
I must admit I know nothing about YaST nor zypper nor BTRFS. I need time to experience these interesting stuff.
Thank you for reading
---
Post Scriptum
I have decide to make be a separate article about zypper using docker. Focusing on package manager in command line rather than installation in GUI.