---
Repository
Zypper has amazing repository commands.
List Repository
Like usual, zypper manual is more than enough. I mean, always check the fine manual first.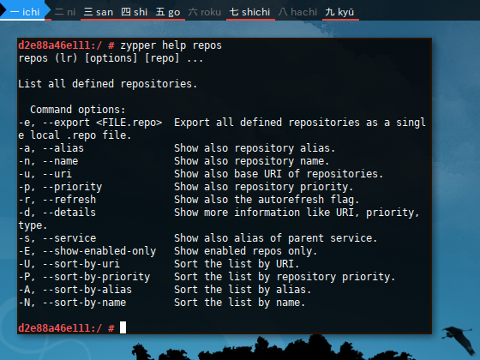 Consider getting started with this simple command.
or a more complex one.

openSUSE put it in /etc/zypp/repos.d/. Like most configuration in unix world, you can edit manualy.

And here is what each repository configuration.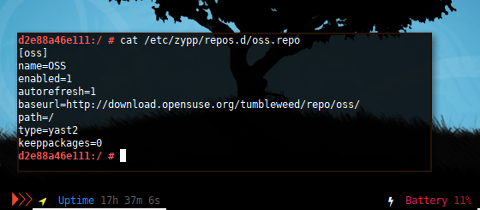 There is also zypper refresh command.

zypper refresh support process for specific repository.

Add/ Remove
It has been a riddle for a SUSE's beginner like me, thinking about how openSUSE handle my weird favorites package, such as herbstluftwm. In openSUSE we have to add X11:windowmanagers first, using zypper addrepo command.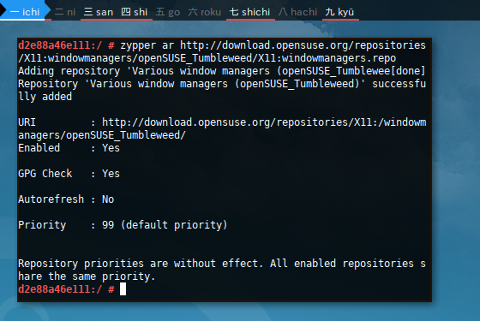 And refresh.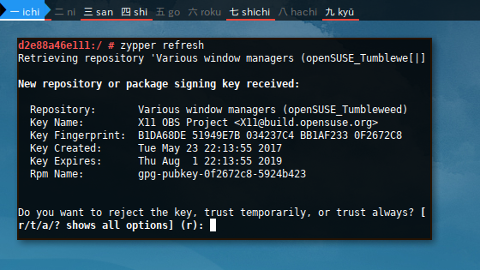 So that we can install herbstluftwm.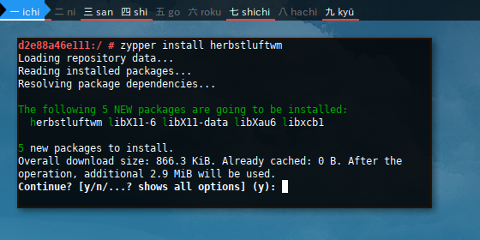 If you want, you can remove the newly add repository.

Modify
Always check the fine manual, like usual.
I like to change to change the repo directly, especially the long name, so I do not need to have long column in my terminal. And also I disable this newly added repo.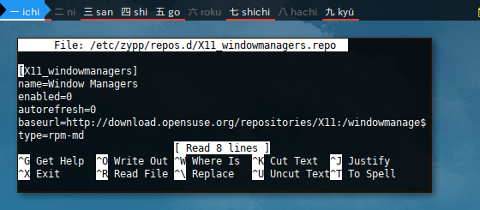 Consider zypper repos again.

Note that X11_windowmanagers has 1 index. Now we can enable it again using this command
Or using name, to make a clearer mandate.

And multiple command at once. Raise priority.

Or all remote repository at once.

Service List
There are other related command as well. I found this, about a month after this article written.

Additional
There are also additional repository contain specific package, i.e driver and multimedia codec provided by packman.
Consider enable packman repository.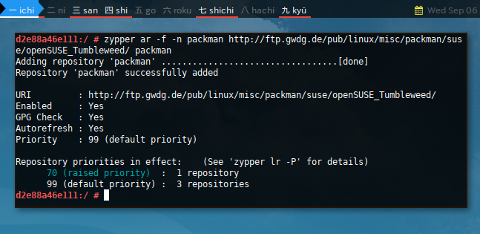 Sometimes packman cannot be reach. For this docker, I would rather remove it.
Mirror
Sometimes you need to switch mirror, whether just to find nearest mirror such as your campus, or because the main repository is has been down for a few hours. Unfortunately I can not find good reference on how to switch mirror in openSUSE.
All you need to do is go check the site, and make sure you check the column.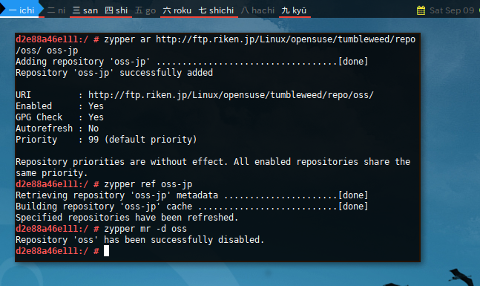 After this you may safely disable main repository.
Switching mirror has never been easier.
---
What's Next
We have not finished yet. There is still Build from Source. Consider finish reading [ Part Four ].
Thank you for reading