Preface
Goal: Using OB Menu Generator as Static Openbox menu.
Table of Content
---
1: OB Menu Generator
Nowadays, people are using automation, rather than a crafting menu manually. There is this openbox-obmenu-generator tools,.
It is cleverly using perl array preprocessor, before converting to xml. Since it has dfferent format than the original xml, I put this on different menu article.
Install
First you need to clone. or install using AUR. Depend on your distribution.
You can see more in manual installation page on github.
Consider also reading installation detail on [ OBMenu Generator: Install ].
Config
Now you need to copy schema.pl to ~/.config/obmenu-generator. It contain predefined array in perl.
Default Menu
Just run the obmenu-generator.
And do not forget to Reconfigure openbox.
Icon
Adding icon is as simply as adding -i argument.
There will be temporary icon directory in ~/.config/obmenu-generator/icons/.
And in the generated menu.xml, it has this hardcoded icon path: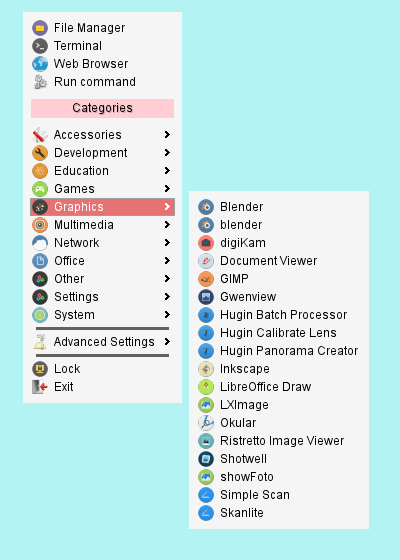 Icon Theme Case
I'm using Breeze, but I want Numix Circle, in my Menu.
All I need is to change ~/.gtkrc-2.0 to Numix Circle temporarily, run obmenu-generator, and get it back to Breeze.
You can also use lxapperance to do this temporarily.
---
2: Dynamic Menu
We can also achieve dynamic menu, by editing the menu.xml, into this:
But I'd prefer static menu, that is faster.
---
3: Custom Schema
It is time to edit schema.pl. Most of the ideas comes form ArcoLinux.
Favorites
Put this on top most:
Replace Default Application
Comment unused line, and add these lines:
Categories Remain Intact
Add Places
Bottom
Reconfigure
And do not forget to Reconfigure openbox.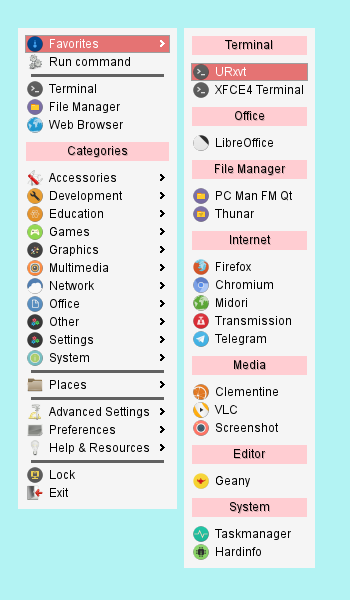 ---
What's Next?
We are almost finished with openbox configuration.
Consider continue reading [ Openbox: Exit ].