Overview
Goal: Explaining Openbox rc.xml configuration in general
Table of Content
---
Note
Reading
rc.xml has been comprehensively covered in this article.
Therefore, this article only discuss about changes in rc.xml and stuff.
That article above clearly defined 13 sections of xml: Resistance, Focus, Placement, Theme, Desktops, Resize (and move), Applications, Keyboard, Mouse, Margins, Menu, Dock, and Coordinates.
OBConf
There is a GUI tools to edit the rc.xml, called obconf.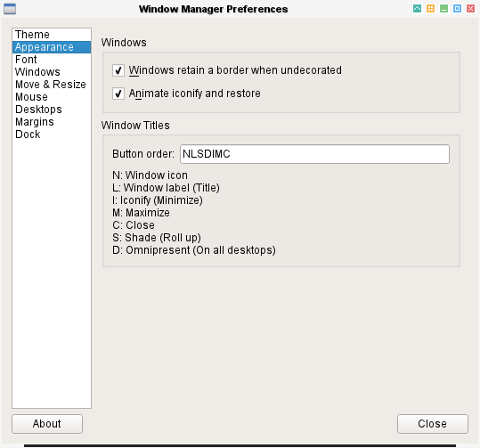 Source
---
1: Theme
The representative xml of theme configuration, would looks similar as example below.
Where the character means:
N: window icon

L: window label (AKA title).

I: iconify

M: maximize

C: close

S: shade (roll up/down)

D: omnipresent (on all desktops).
---
2: Desktop
I like to use, geeky greek character to identify my desktop.
Now you can see the result in tint2 as below.

---
3: Gaps
You can set desktop margins. Note that I put 40 on top, because I have my tint2 panel. You might want different setting.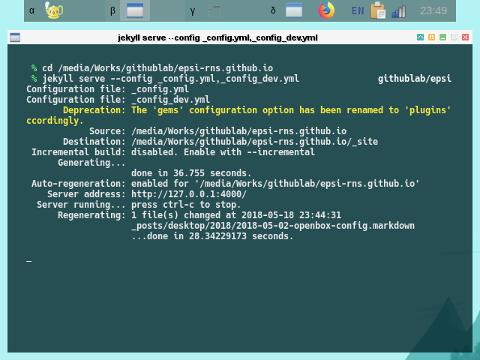 ---
4: Startup
There is this ~/.config/openbox/autostart file, that manage the startup.
I change my autostart from time to time. It all depen on your need, mood, and the weather on your city.
Current autostart
This non windowed-app, will be discussed later in rules section, in the next article.
Old autostart
My old startup file contain these lines.
Source
---
What's Next
Actually there is not many to say here, because I splitted the article to: key/mouse binding, rules, and menu.
Consider continue reading [ Config: Key and Mouse Binding ].