Preface
Goal: Main modules in modularized configuration.
Table of Content
---
Artefacts
Now consider have a walk, moving some codes to files in main directory.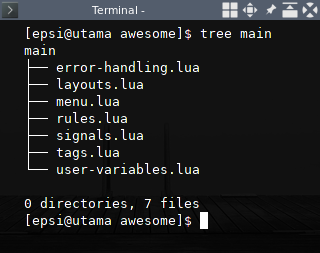 We have already moved error-handling.lua and user-variables.lua in previous article. We will discuss here about the rest five: layouts, tags, menu, rules, and signal.
Calling Script
We are going to call these scripts in rc.lua.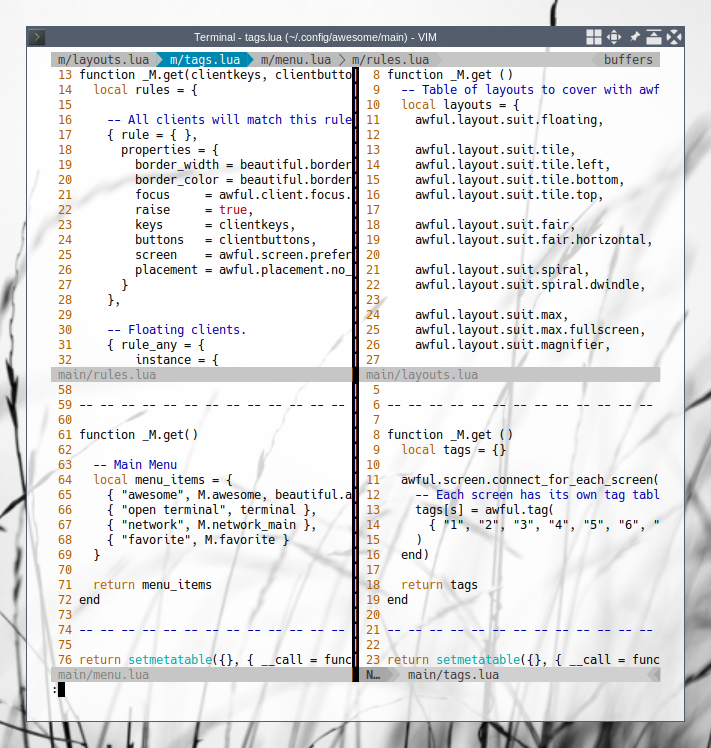 Do not get intimidated with codes above. These can be explained step by step.
---
1: Layouts
The layout icon can be seen in top-right statusbar.
Module Script
You can add or remove, layout using this script below:
Now we have these available: floating, tile, tile,left, tile.bottom, tile.top, fair, fair.horizontal, spiral, spiral.dwindle, max, max.fullscreen, magnifier, corner.nw. You can also add layout using other third party library.
.
I put number a comment, because I want to give different layout for different tag. what I mean is, this comment is required.
Layout Preview
It is easier to understand the layout using image.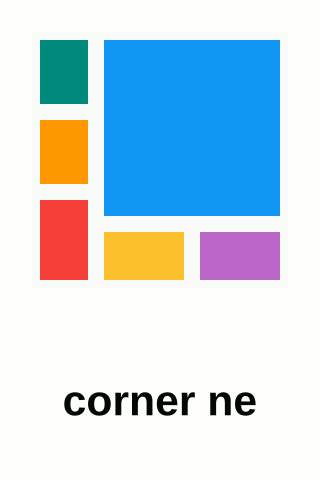 Calling Script
In main configuration:
---
2: Tags
Standar Tag
Standard tags are using number.
.
Remember that RC.layouts[1] is, awful.layout.suit.floating.
Calling Script
In main configuration:
Custom Tag
What about different tag names?
Well, you can rewrite the script as below:
---
3: Menu
This menu is very helpful for beginner. You can setup manually like what this article explain, or you can use third party to build XDG menu, for works with Awesome WM.
Module Script: Initialization.
This script is a little bit long. It takes some libraries to be loaded, and predefined variables to be set.
Module Script: Configuration Values
Right below the initialization, lays code that set configuration values.
.
And the result is:
Calling Script
In main configuration:
Custom Menu
Of course we can append menu items. It is easy actually, by adding these setting.
And add those variables above in main menu.
And the result is:
---
4: Rules
I mostly just cut and paste the rule. This is long, it has long documentation, and maybe deserve its own article.
.
Calling Script
In main configuration:
You can later change the code to
But now, leave it that way. Since we haven't touch the binding section.
---
5: Signals
On most my Awesome WM time, I rarely make any customization in this signal section.
I put titlebar signal in other files.
You can choose not to have titlebar. People doing ricing, love borderless window.
Calling Script
In main configuration:
Since it does not return value, that code above is enough.
---
What is Next?
Consider continue reading [ Awesome WM - Binding Modules ]. There are, some interesting topic, about refactoringAwesome WM using Lua.
What do you think ?