Good day dear ricer, hello again.
Preface
For a linux lover, I always late, I never use Z Shell, but always BASH or FISH. And now I decide to use ZSH, just to find out what I never learnt in BASH. Yes, these are tools that you can learn them all over a night. It is all intended for end user.
---
Issue
One of my issue with oh-my-bash is that I cannot find preview for each theme. But do not worry, there is a workaround. Even better, we can see each theme live, in action for each theme.
If you ever wonder how to get the looks of each oh-my-bash theme easily, I made a script for you to play with.
Here is the step by step procedure.
First, Install oh-my-bash

Second, Comment the # OSH_THEME=something in .bashrc

Third, Try this oneliner code in shell, and then type exit for newly created bash session.
Fourth, Implement that oneliner code as a script as below.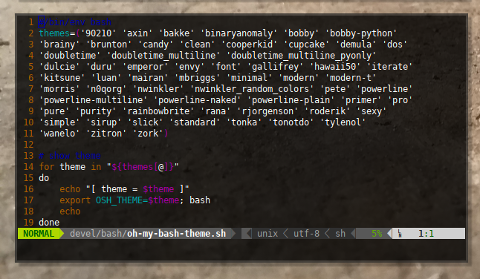 Fifth, Run the script. And manually type exit for each bash sessions. You can see the output in figure below.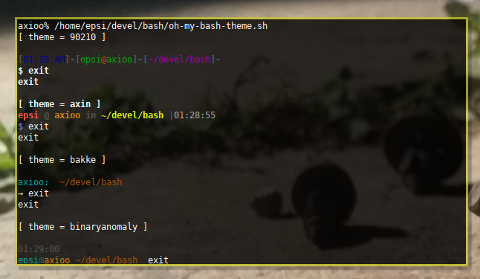 Now you are done.
---
oh-my-bash Iteration Source
Of course you can grab all the themes at once. I made above code simpler, so the reader won't get focus lost.
You can also modify the theme, such as to add character from powerline extra font.

---
oh-my-zsh Iteration Source
Respectively, it is also applicable with oh-my-zsh.
Of course you can grab all the themes at once.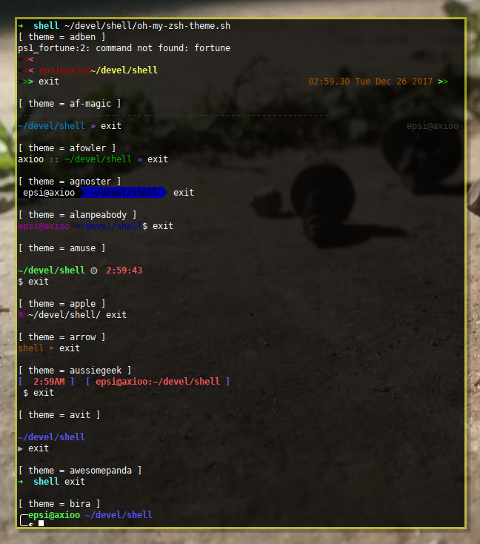 Later I found out that oh-my-zsh has this cool official script that show all themes.
---
Good luck my friend. Have some fun with your shell.
Thank you for reading.